Our factory started life as the regional headquarters for a manufacturer named Link-Belt built in 1924. This article from the 1924 issue of Brick and Clay record shows the original structure that came first. This is now just a small part of the southwest corner of the building. The building was slowly expanded over the coming decades to fill demand.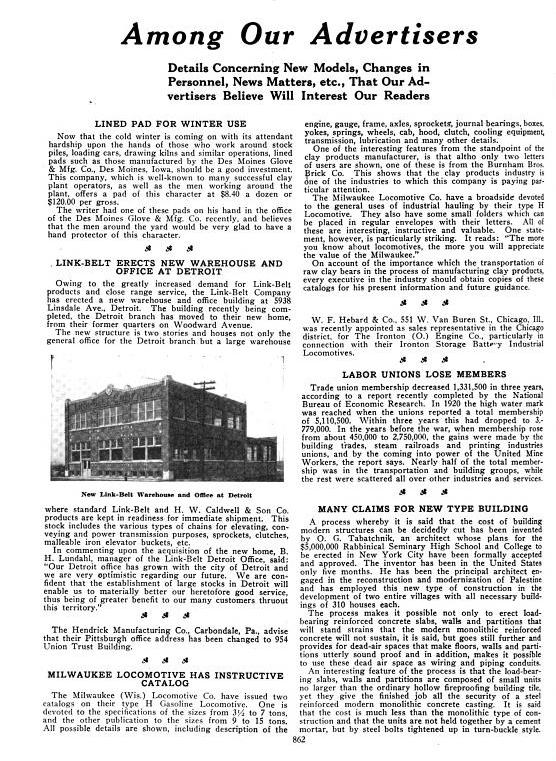 Link-Belt was known for making chain drivers, conveyors, pulleys, and other material moving equipment.
Their major invention was the automatic furnace stoker that kept your furnace full of coal so you didn't have to stoke it manually. You may know Link-Belt today as a major crane manufacturer.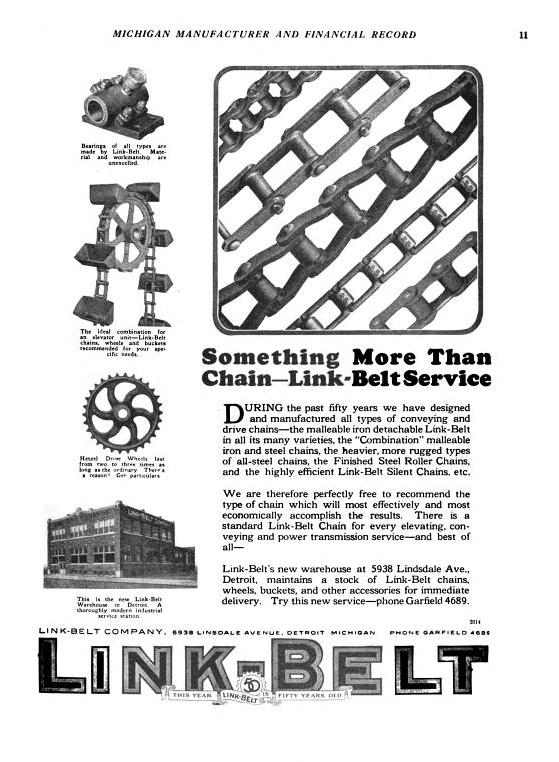 Shortly after construction Link-Belt began supplying assembly line parts to Henry Ford for the Ford Motor Company.
These pieces played a vital role in the construction of Ford's factories.
In the 70's the building was purchased to produce Ford and Lincoln cars as part of a major complex on Detroit's west side.
The complex extended 13 acres to the south and included a Holley carburetor factory. There aren't good records from this time aside from a construction permit request to seal in the once-public alley between the two buildings and to build a bulletproof guard shack in the street. We'll update this as we find more records from this era.
In the 80's the building was purchased by the F.M. Envelope Company to begin high-volume envelope production from raw materials.
They produced envelopes for all Hilton Hotels nationwide, the US Park Service for camping fees, the Detroit Zoo, and thousands of other customers. Their daily output was in the millions of units.
In 2021 the factory was purchased by
Andy Didorosi
of
The Detroit Bus Company
to serve as both the headquarters for the bus company and also to invest in a new method of building a manufacturing organization.
2022: Mutiny was launched.